Update: Now that Apple has dropped support for iPhoto, you may be more interested in the new version of this software, Photos Disc Export.
iPhoto is good for managing and organizing photos and photo metadata, but it's not easy to get that information back out if you want to share more than a few photos. I recently finished scanning 13,000 family photos and importing them into iPhoto, and I wanted to be able to share all of those photos (complete with the faces I spent hours tagging) with my brothers and sisters.
I could just burn copies of the iPhoto library to discs, but not all of my siblings have Macs, and iPhoto may not be around for very long. I needed a way to export all of the photos and metadata in a format that I felt comfortable would be supported for a long time: the Web.
The result was a PHP script that exports an iPhoto library into folders of image files (one folder per event), generates JSON arrays of event and photo metadata, and builds a minimalist JavaScript-powered website that provides a simple photo viewing experience. The website can be put online, or it can be run entirely offline (like from a DVD, which is my plan for sharing with my family members). The code is all open source (https://github.com/cfinke/iPhoto-Disc-Export) and the usage instructions are in the README.
Here's a screenshot of the main page of the website it generates: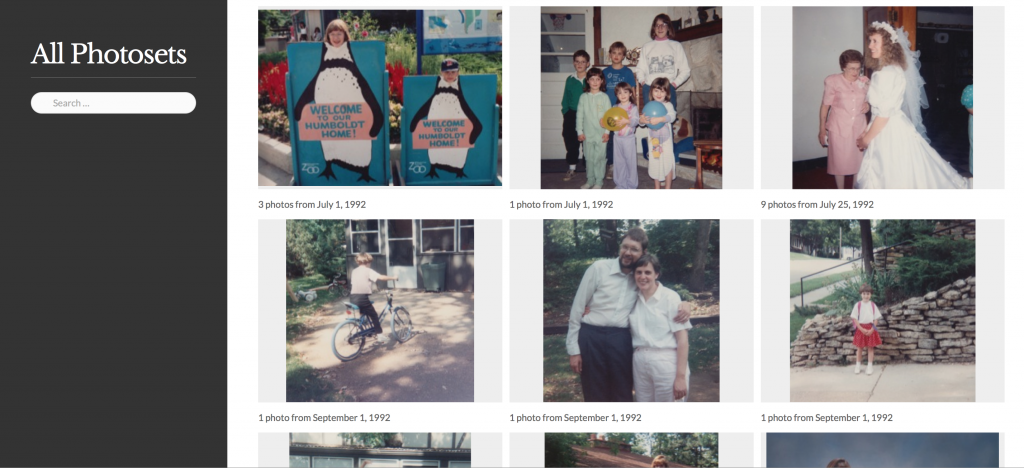 And here's an example of a single photo's page:
I know it's a pretty niche project, but hopefully it will come in handy for anyone looking to make their iPhoto library more shareable and accessible, especially as Apple drops support for iPhoto in the near future.