RSS Ticker has been an alternative to Web-based feed readers since 2006, displaying feed updates directly in users' browsers. It hasn't seen significant change in a while, but some of the internal Firefox code used by RSS Ticker has changed enough that in order for it to remain functional in Firefox 22, its entire architecture would have to change. That's a lot of work.
I didn't want to abandon RSS Ticker's users (especially with the shutdown of Google Reader imminent, already leaving one less feed reading option), but I also couldn't dedicate the time to completely rewrite the add-on and keep all of its features. So here's what I've done:
RSS Ticker has been completely rewritten. This has given me the opportunity to use the knowledge I've gained in the last seven years of programming to improve the overall design of the ticker and to restructure the code to play nicely with the new Firefox APIs.
What hasn't changed? RSS Ticker will still scroll your feeds in your browser. You can still choose to put it at the top or bottom of your Firefox window. You can still exclude specific feeds. You can mark as read, mark feeds as read, open in tabs, open all in tabs, etc. You can temporarily disable the ticker. You can change the ticker speed, smoothness, and direction. You can hide the ticker automatically when it's empty.
What has changed? In order to continue supporting RSS Ticker, I've had to drop a number of features. Here are some things you can no longer do with RSS Ticker:
Manually refresh the feeds.
Specify how often the feeds should refresh.
Randomize the order of the ticker items
Limit the number of items per feed
Display items that have already been read
Show unread items in bold
Manually limit the width of ticker items
Customize the context menu
I know some of you liked and used these features. I'm sorry I had to remove them, but it was the choice between removing them or abandoning the add-on altogether.
A few features haven't been removed, but they have been changed (a.k.a. "improved"):
1. All of the remaining options (six of them, down from a total of 37) are displayed inline in RSS Ticker's section of the Add-ons Manager.
2. If you want to temporarily disable the ticker, just uncheck it in the View > Toolbars menu.
3. To remove a feed from the ticker (but not from your bookmarks), right-click on it in the Bookmarks Manager and uncheck "Show in RSS Ticker."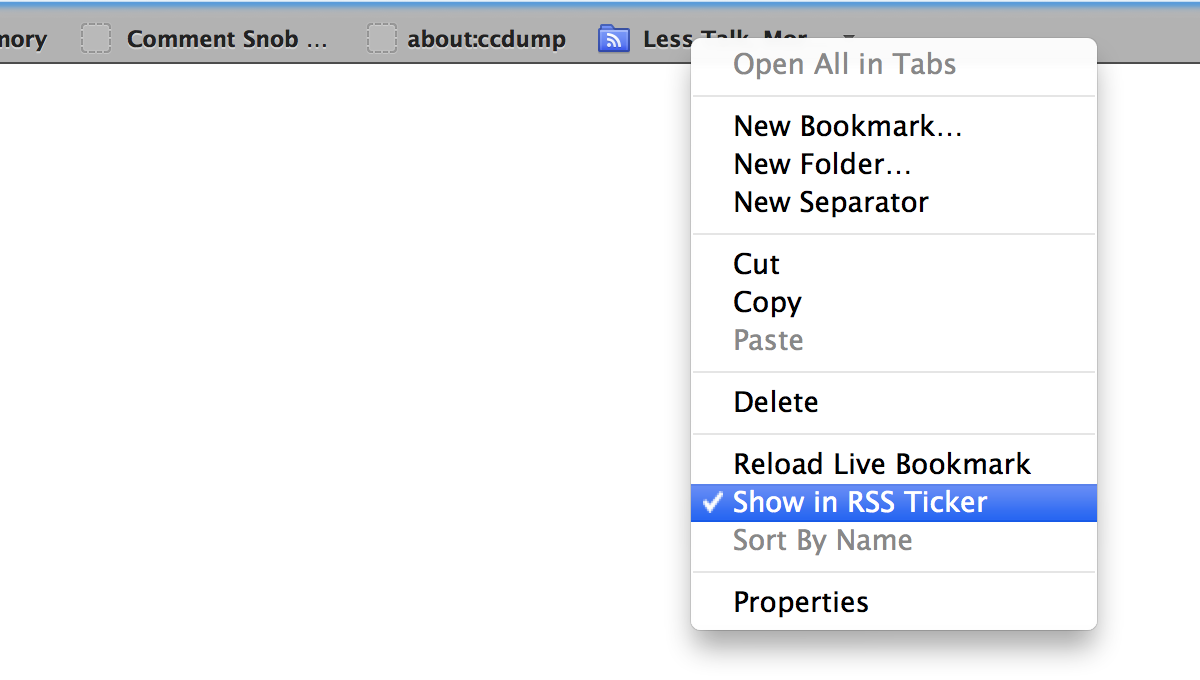 This new version will be available in a couple of weeks after some more testing, but if you'd like to test it early, leave your e-mail address in a comment or ping me at chris@efinke.com and I'll send you a copy.