Update: URL Fixer was acquired and is now hosted at http://urlfixer.org/
Earlier this year, I added a feature to URL Fixer (a browser add-on that fixes errors in URLs that you type in the address bar) that collects anonymous usage stats from users who opt in in order to help improve the ways that URL Fixer corrects typos; the collected data includes domains that are typed in the URL bar as well as the locale (language/country) of the user who typed them.
I now have six months of data, and I've run some statistical analysis on it in order to share some interesting stats with you. (If I were more creative, I would make an infographic out of this information.) Note that this data does not include bookmarked links or links that users click on in websites. It is strictly domains that have been typed directly into the address bar.
Care to guess the most commonly typed domain? That's right: facebook.com. It was typed almost three times as often as the second most popular domain, google.com.
The top 10 domains account for 20% of all typed domains.
facebook.com
9%
twitter.com
1.1%
amazon.com
0.5%
google.com
3.3%
mail.google.com
0.6%
reddit.com
0.5%
youtube.com
3.3%
yahoo.com
0.6%
gmail.com
1.1%
hotmail.com
0.6%
The most popular TLD for typed domains is .com, followed by .org, .net, and .de.
| | |
| --- | --- |
| .com | 63% |
| .org | 4% |
| .net | 4% |
| .de | 4% |
| .ru | 2% |
| .hu | 1% |
| .fr | 1% |
| .co.uk | 1% |
| .br | 1% |
The top 17 TLD typos are all variations of .com. In order of frequency, they are .com\, .ocm, .con, .cmo, .copm, .xom, ".com,", .vom, .comn, .com', ".co,", .comj, .coim, .cpm, .colm, .conm, and .coom.
The website that appears to benefit the most from users mistyping a legitimate URL is faceboook.com (count the o's). It's a scammy website set up to make you think that you have been chosen as a "Facebook Winner." However, it is only typed once for every 7,930 times that someone correctly types facebook.com. (googe.com and goole.com are runners-up in this category, albeit with much less scammy sites in place than faceboook.com.)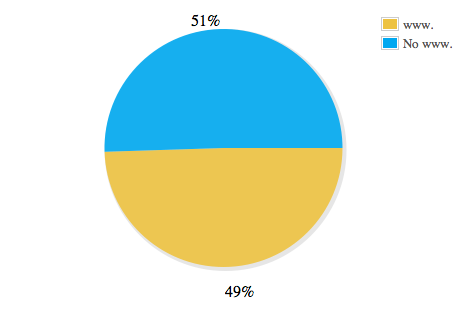 49.5% of domains are typed with a leading "www.".
The most popular non-.com/.net/.org domains: google.de, vkontakte.ru (a Russian social network), and google.fr.
The only locales where neither Google nor Facebook control the most popular domain are ru-RU (Russia – vkontakte.ru), fi-FI (Finland – aapeli.com, a gaming website), ko-KR (Korea – fomos.kr, an e-sports website), and zh-CN (China – baidu.com).
How does domain length correlate with typing frequency?
(Facebook is to thank for the spike at 12 characters.)
How about alphabetical order? Has the old trick of choosing a site name early in the alphabet in order to show up above the fold on DMOZ had any lasting effect?
Facebook and Google certainly make their letters stand out, but there doesn't appear to be a correlation between the first letter of the domain and its popularity.
None of the domains with more than a 0.0005% share are unregistered, indicating that this kind of usage data would not be very useful to a scammer or phisher looking for new domain names.