Update: TwitterBar for Firefox was sold to HootSuite and renamed HootBar in March of 2011. TwitterBar for Chrome was discontinued in October of 2012.
When a new user downloads TwitterBar, there are a number of things I want them to know or questions I want to ask them. So what is the best method to communicate with an add-on user?
The solution I've been using for a while is to pop up a dialog like this: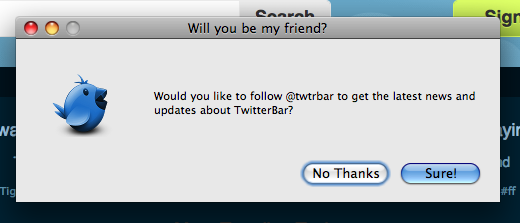 There are several problems with this approach, all of which I decided to ignore when I implemented it:
It steals the user's focus.
It's annoying.
The user might click cancel without reading it just to get rid of it.
It's annoying.
The user might immediately (but accidentally) click elsewhere, hiding the dialog behind another window, never to be seen again.
It's annoying.
It's extra code and work to pop up a special dialog like this.
It's annoying.
Back when there was only one dialog, I decided that these were acceptable faults. However, since then, I've come up with a few more questions I want to ask users, so now instead of one annoying dialog, there are three or four annoying dialogs – a new one appearing each time you restart Firefox.
Predictably (or so it should have been), users don't like to be assaulted with new dialogs each time they start their browser. Most likely, they're starting their browser for some purpose other than using my add-on, so my add-on shouldn't steal their attention. As one user so elegantly put it,
"I really love the TwitterBar, but after the most recent TwitterBar update, I noticed I kept getting these annoying as hell pop-ups from TwitterBar about TwitterBar. After the third one (while I was in the middle of doing something and became distracted with this pop-up dialog box TwitterBar tip of the day), I uninstalled it. If you want to keep your clients, don't constantly tap them on the shoulder."
I had already been working on redesigning these add-on/user interactions when I got that email, so the user's message reinforced what I had suspected: I was alienating my userbase.
Here's the new scheme I've settled on for now:
It's a notification bar, much like the one that appears when Firefox blocks a popup. It has these positive qualities:
It doesn't steal focus or interrupt the user.
It's not in-your-face, so it's less likely (I assume) to be dismissed without thought.
It can't be lost behind another window.
The amount of code to implement it is less, and it's more in tune with the browser interface.
It's not as annoying.
I'd love your feedback on this change. Is it enough? Should I stop bothering users altogether and just let them discover their way around the add-on? I'm open to all ideas.
(If you'd like to try a version of TwitterBar with this new notification method, you can download it here. Although, if you've already seen the old dialog-style version of these notifications, you won't see the new-style ones anyway.)