We just moved into a new house, and the 20-year-old signpost is showing its age. It had deteriorated at the bottom, so it was no longer set in a hole and was just leaning against a tree.  I decided to restore it and make use of a gift that the previous homeowners had left us.
Here it is on my workbench awaiting some TLC.
I planed the hanging board and the vertical post to clean up the faces. The horizontal post fell apart in my hands when I removed the bolts, so it went in the trash.
Here are the post and hanging board after being planed on each side.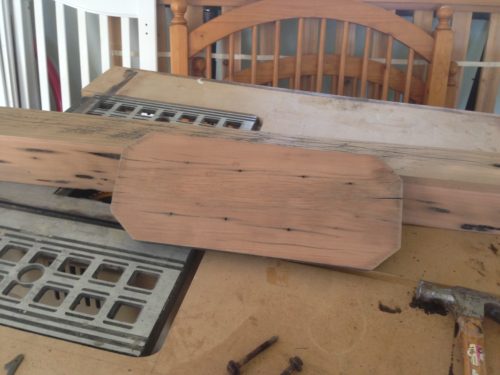 I used the wood from the old vertical post to make the new horizontal post (since the bottom 18″ was unusable, it wasn't long enough to be reused vertically). I found an abandoned 10′ post in the backyard, so I recycled it into the new vertical post for the sign.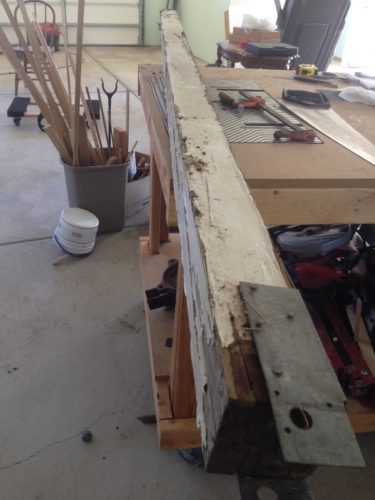 I cut a lap joint in the post and sanded off all of the old paint. Here's a before/after shot (taken with Reenact, of course).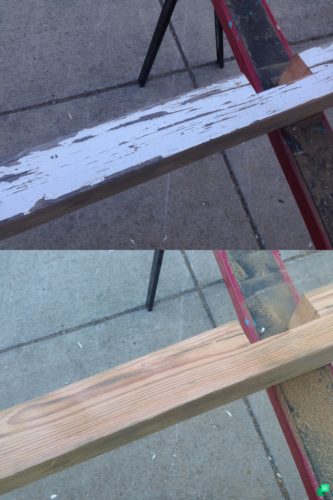 Here's a shot of the lap joint in the horizontal post after I added some spar urethane to both posts.
One last dry-fit before final construction:
I chamfered the edges of all of the posts on the miter saw to match the original; this should help prevent water from soaking into the top of the vertical post, and it looks nice too.
I removed all of the rust from the chain and eye bolts using a vinegar/salt solution followed by a water/baking soda solution. It worked way better than I expected.
If I had known how well the rust removal would go, I wouldn't have bought new bolts to join the posts.
Chains attached.
The previous owners of the home had bought some ceramic house-number tiles in Italy but had never been able to put them up. Rather than just gluing them to the wood, I wanted a method that would be reversible if I didn't like the result or if I made a mistake, so I designed and printed some hold-down clips to attached the tiles to the hanging board.
It was tight getting the tiny little galvanized nails tacked in without chipping the tiles, but half an hour with a nail set (actually a bolt with a concave point, since I couldn't find my nail set) did the trick.  There is some space between the tiles and clips to allow for wood movement.
I hung the numbers up and trekked down the hill to plant the post.
Tada! Now the UPS driver will know where to bring our Amazon orders.